How IT Professionals Can Leverage Automation Software
In a world with an increasing emphasis on technology, IT support teams play an important role. People need help navigating the digital world – and IT professionals walk people through their biggest hardware and software hurdles.
The problem is, IT teams big and small can be overwhelmed with lengthy task lists. With so much technology to install, repair, build, test, and maintain, and so many customers to help, IT can be a busy industry.
On top of that, many of the tasks IT professionals perform are repetitive – they answer the same phone calls, walk customers through the same steps, and incorporate the same tech solutions across user accounts.
What if there was a way to eliminate some of these repetitive tasks to give IT professionals more time to do what they do best, whether it's problem solving or working through complex technology?
Behold, RPA, or Robotic Process Automation. This AI-powered solution takes care of simple, repetitive tasks automatically, freeing up the schedules of the IT professionals using it.
Learn below how RPA can transform your tech support team.
What is RPA?
RPA is a complex software system that carries out repetitive tasks which would be tedious and time-consuming for human staff. This software uses 'bots' to complete these tasks. As a result, you can take a hands-off approach to seeing the completion of these tasks, and staff members can complete tasks that require a human approach.
In the context of information technology, RPA can be used to take care of various customer service-related tasks. As a result, your tech support team will have less customer dissatisfaction and far more time.
How Tech Support Teams Use RPA Software
Chat Bots
IT professionals know that it's impossible to predict how many customers will require their support at any given time. That's what makes chat bots so helpful.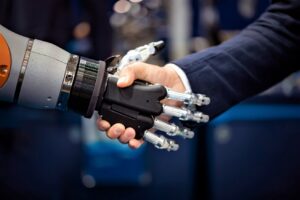 Chat bots – also called 'conversational agents' – can be easily programmed to 'chat' with users. More specifically, these bots are designed to mimic a participant in an online chat interface. They ask the user questions and follow a flowchart of further questions, eventually giving the customer an answer or sending them towards a live person.
Alerting Customers During an Emergency
IT professionals and customers alike dread two words: 'technical difficulties.'
When your service is down, you can expect a wave of angry or confused customers flooding your phone lines. Your staff will likely have to give each one the same speech, explaining that the problem they're facing is widespread across all customers.
RPA allows you to program phone lines to inform customers that services are down, or that they can expect to face technical difficulties. As a result, human staff members will be able to dedicate their time and energy towards solving the problem at hand.
Server Backup
Speaking of emergencies, what happens to a database when tech starts to fail? RPA bots can ensure that servers are backed up regularly and restored in the wake of an emergency.
Directing Customers on the Phone
Your IT team may have a selection of departments or experts that specialize in certain areas of IT. When a customer calls, they may not know specifically which professional to reach out to. That's where RPA comes in.
With RPA integrated correctly, a customer will call the phone, and they'll automatically be given a few short questions to answer to be directed to the right extension. Gone are the days of countless redirects.
Follow-Ups With Customers
In some scenarios, your IT team may wish to collect feedback following an interaction with a customer. Perhaps an IT professional gave a customer instructions to follow, and you need to know if the instructions given worked.
RPA allows you to automatically schedule follow-up messages to customers. This way, customers can share whether they are satisfied or not, and schedule a follow-up if necessary.
Routine Monitoring
Many tech-based teams need to perform routine maintenance checks to ensure that their materials are working smoothly. In order to ensure these are performed correctly and frequently, many teams turn to RPA for help. RPA can automatically flag any issues if necessary.
Payroll and Other HR Duties
Even IT staff members have to complete regular workplace measures. From staff scheduling to payroll, HR management staff usually have their hands full. Many of their duties are repetitive – and though repetitive tasks are often described as "easy," it's part of human nature to make mistakes when completing them.
RPA bots can complete repetitive tasks without error, allowing staff to complete tasks that are better fit for humans – it is, after all, called "human resources."
How RPA Can Transform Your IT Experience
As we've explained above, there are plenty of ways that RPA software can be used to improve your tech support team. After incorporating RPA into your network, you'll see reliable results right away. Here's what you can expect:
More time: RPA takes care of tedious and repetitive tasks. These can often be quite time-consuming for human staff – but with RPA, your IT team can focus on other duties that require their tech-based expertise.
Paper-free processes: With RPA's organized digital approach, you'll have less physical paper to deal with. That means no more looking up user manuals when crunched for time – you'll quickly be able to access manuals and records.
Less stress for all: Bots don't make mistakes the way humans do when completing repetitive tasks. Say goodbye to tiresome errors that leave staff exhausted and customers angered!
Curious About RPA Software?
At Thrive Automation, our goal is to ensure your team is fully supported and empowered to use RPA in a way that helps your business reach its full potential – whether you're a dental clinic, in the financial industry, an educational facility or anything else.
No matter your skill level or experience with automation, we can help you! We offer the following options, depending on your knowledge and experience level with RPA:
Automation Readiness Audit (ARA)

Automation Roadmap

Automation Pilot

Automation Centre of Excellence

Thrive Care
Find Out More About Our Unique Services Designed to Meet Your Individual RPA Needs